R Markdown Reports in Dataiku DSS¶
Overview¶
R Markdown is an R package to create fully reproducible, print-quality documents that incorporate narrative text and code to produce elegant output that can be shared on dashboards or delivered in a variety of static formats for offline reading.
It is an example of literate programming as it weaves together natural language with source code.
In this brief tutorial, we'll create a simple R Markdown report in Dataiku DSS. The final output can be viewed on the Dataiku gallery.
Technical Requirements¶
A proper installation of R on the server running DSS.

See the reference documentation if you do not have the R integration installed.

An existing R code environment including the ggplot2 and magrittr packages, in addition to the required dplyr and dataiku packages

An installation of pandoc, in order to download reports as PDFs, with the adjustbox, collectbox, ucs, collection-fontsrecommended, and titling LaTeX packages.
Creating A New R Markdown Report¶
From the Deployment tutorial or the new blank project if directly downloading the data, create a new empty R Markdown report:
In the Code menu (</>) of the top navigation bar, select RMarkdown Reports.

Click "+ New Report" or "+ Create Your First Report".

Choose "Empty document" and type a name for the report, in this case Haiku T-Shirt Analytics.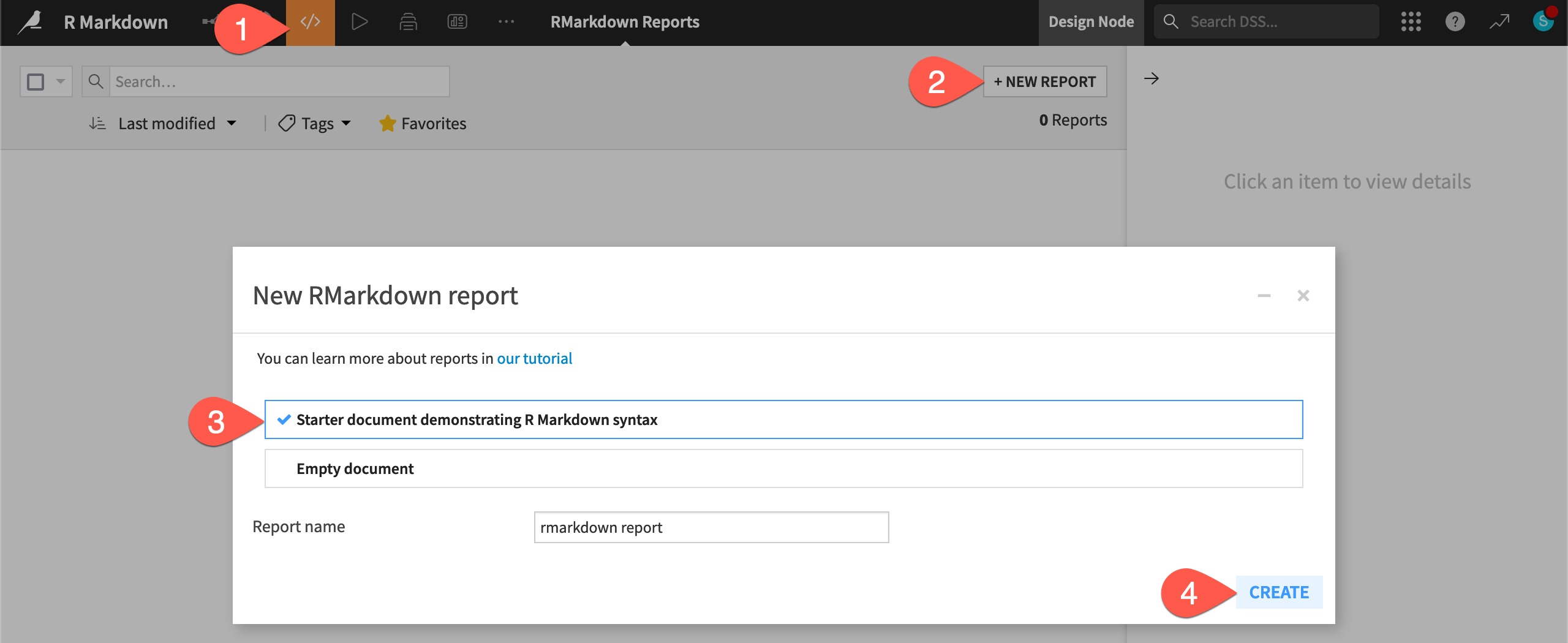 You will be redirected to the R Markdown editor.
The R Markdown Editor¶
The R Markdown editor is divided into two panes.
The left pane allows you to see and edit the markdown (including code) underlying the report.
The right pane gives you several views on the report.
The Preview tab allows you to write and test your markdown in the left pane while having immediate visual feedback in the right pane. At any time you can save or reload your current markdown by clicking on the Save button.

The Log is useful for troubleshooting problems.

Settings allows you to set the output format of the preview. You can also set the code environment, if you want it to be different from the project default.
Writing An R Markdown Report¶
Let's build the markdown and code behind the report. In this section, we'll add three types of content:
Metadata inside a YAML header, wrapped by ---

R code chunks, wrapped by ```

Narrative text with simple markdown formatting
Publishing An R Markdown Report¶
When you are done with editing, there are a number of options for distributing your report.
Publish on a dashboard from the Actions dropdown at the top-right corner of the screen.

Download to your local filesystem in one of a variety of formats, again from the Actions dropdown.

Email as part of an automation scenario.
What's next¶
Congratulations! Using Dataiku DSS, you have created an R Markdown report.
You can examine a completed version of this report on the Dataiku gallery.
For further inspiration on what is possible in R Markdown reports, see the R Markdown gallery (external).