Building an Azure Pipeline for Dataiku DSS with Project Deployer¶
In this article, we will show how to set up a sample CI/CD pipeline built on Azure for our Dataiku DSS project. This is part of a series of articles regarding CI/CD with Dataiku DSS.
For an overview of the topic and the initial configuration, please refer to the introductory article.
Note
You can find all the files used in this project attached to this article by downloading them.
Introduction¶
Based on the generic setup described in the introductory article, let's review this case. We will be using a DSS feature called Project Deployer as the centerpiece for deployment.
Project Deployer is a feature released in version 9 of Dataiku DSS allowing you to centrally manage the deployment of bundles to Automation nodes.
If you are using Dataiku version 9 or below, or are not using the Project Deployer, you can Build a Jenkins pipeline for Dataiku DSS without using the Project Deployer.
Our CI/CD environment will be using Azure DevOps as the orchestrator and the DSS servers themselves will run as Azure virtual machines.
Architecture¶
Let's start by presenting the different systems we need:
An Azure DevOps account with a project created (in our case, it will be called "dss-pipeline"). We have activated the Pipelines and Repos features (as we will host the code of the Azure pipeline in Azure itself).

One DSS Design node where data scientists will build their Flows, deployed in an Azure virtual machine.

Two DSS Automation nodes, one for pre-production and the other for production. They are also deployed as Azure virtual machines.

One simple Linux virtual machine configured as an Azure DevOps agent.

Azure Configuration¶
This article does not aim at explaining Azure DevOps or being a deep-dive on how to configure it. However, we will highlight the minimal setup needed to run this example, with links to the relevant Azure documentation:
Pipeline Configuration¶
If you did not hit run right away, or even if you did and are wondering what this pipeline does, here is an overview.
The parameters are declared in the yaml file (they can be declared in other manners in Azure DevOps, but this approach is the simplest for a sample):
DSS_PROJECT (String): key of the project we want to deploy (e.g. DKU_CHURN)

DESIGN_URL (String): URL of the design node (e.g. http://10.0.0.4:1000)

DESIGN_API_KEY (Password): Personal API key to connect to this node. (This needs to be a personal API key; global API keys will not work).

AUTO_PREPROD_ID (String): ID of the pre-production node as known by Project Deployer (e.g. auto-uat)

AUTO_PREPROD_URL (String): URL of the PREPROD node (e.g. http://10.0.0.5:1000)

AUTO_PREPROD_API_KEY (Password): the API key to connect to this node

AUTO_PROD_ID (String): ID of the production node as known by Project Deployer (e.g. auto-prod)

AUTO_PROD_URL (String): URL of the PROD node (e.g. http://10.0.0.6:1000)

AUTO_PROD_API_KEY (Password):the API key to connect to this node
The pipeline contains 5 jobs, executed one after the other:

Let's review those jobs one by one.
Executing the Pipeline¶
By default, Azure pipelines are executed after each commit in the repository. Alternatively, you can start it manually in the pipeline view by hitting the run button.

This is what you should see as the pipeline is being executed.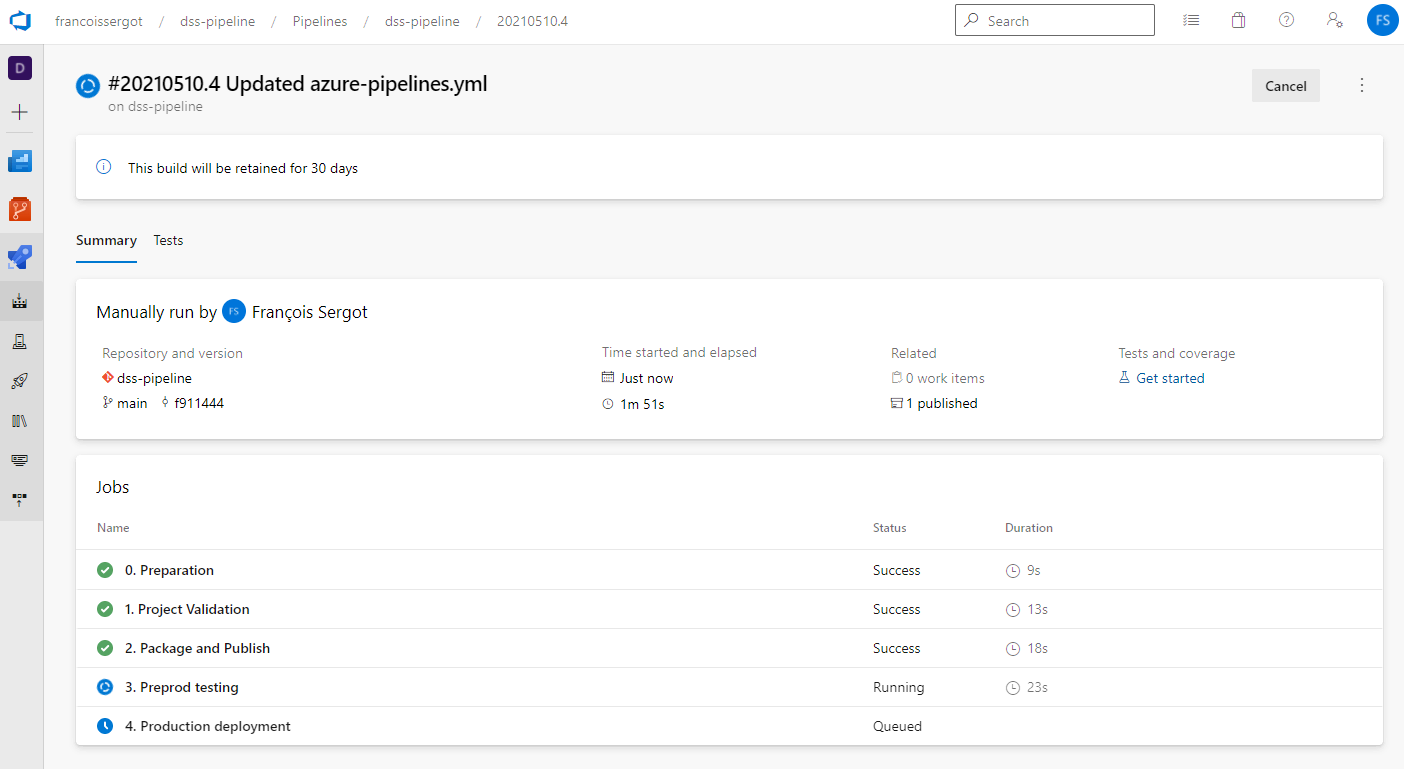 Once finished, you can also see the run results and the details on the tests.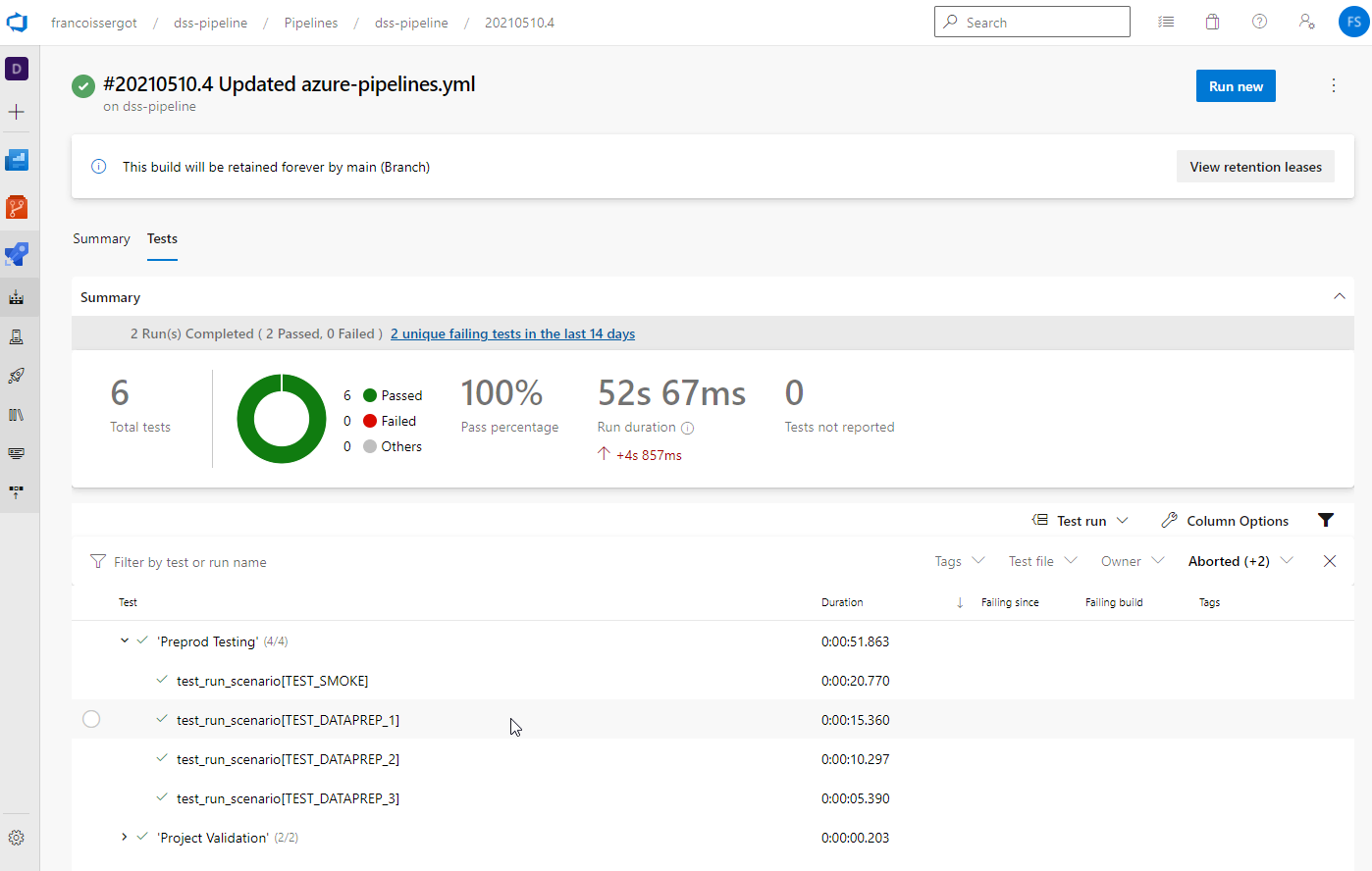 And once executed, we can see those deployments within DSS in Project Deployer: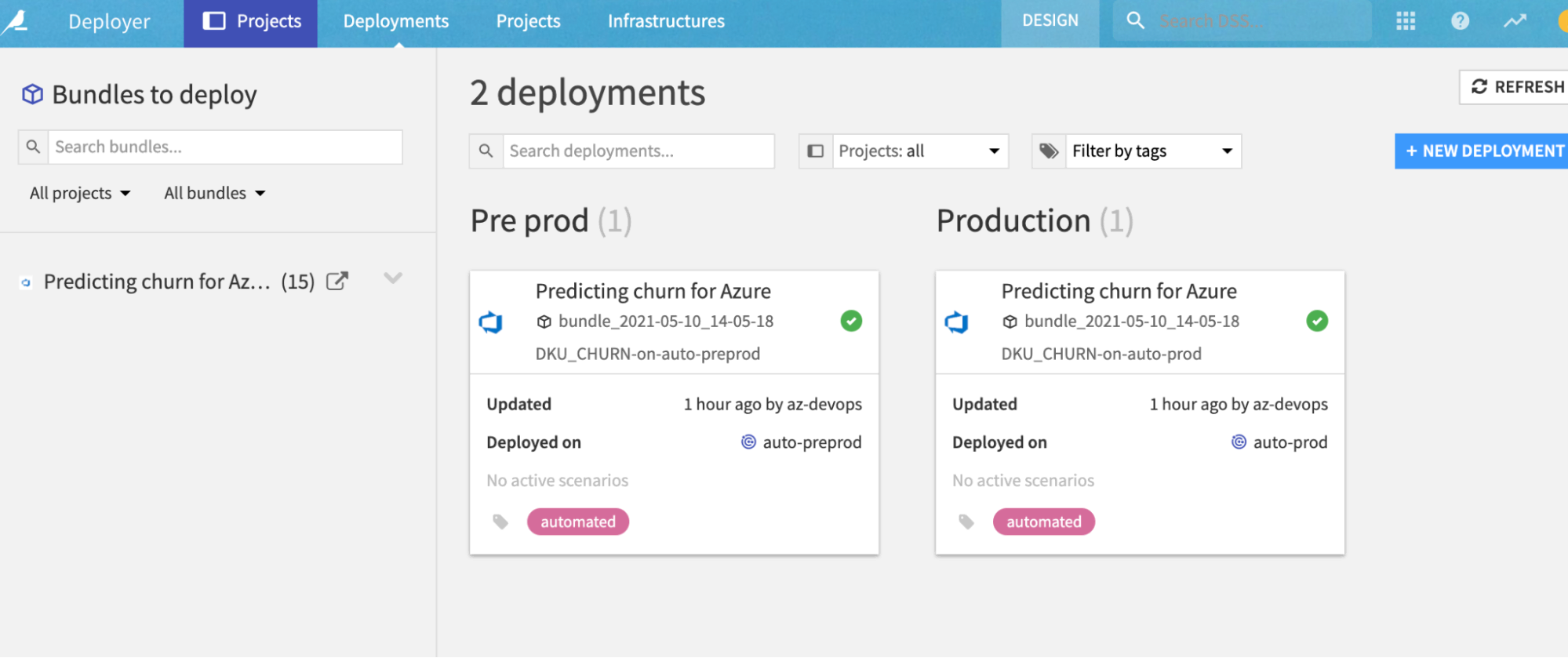 With this, you are done with this sample and can start tailoring it to your needs.