Hands-On Tutorial: Create an HTML/JavaScript Webapp to Draw the San Francisco Crime Map¶
In this tutorial, you will learn how to create a webapp in Dataiku DSS, using HTML and JavaScript (and later adding a Python backend), to draw a map of San Francisco with information on the number of crimes by year and location.
The final webapp can be found in the SFPD Incidents project on the Dataiku gallery.
Prerequisites¶
Some familiarity with HTML and JavaScript

Some familiarity with Python (to use the Python backend)
Create Your Project¶
From the Dataiku homepage, click +New Project > DSS Tutorials > Visualizations > SFPD Incidents.
Note
You can also download the starter project from this website and import it as a zip file.
Alternatively you can download the full dataset from the San Francisco Open Data Portal and import it into a new blank project.
Prepare the Dataset¶
On the map, we are going to display the data with year-based filters. In order to do that efficiently, we are going to start by creating a new enriched dataset with a "year" column.
Select the dataset and create a new Prepare recipe with sfpd_enriched as the output.

Parse the Date column as a new step in the script.

From the parsed date, add a new Extract date components step to the script. Only extract the year to a new column named year (empty the column names for month and day).

Rename column X to longitude and column Y to latitude.

Click Run, updating the schema if necessary.
Create a New Webapp¶
In the top navigation bar, select '</>' > Webapps.

Click + New Webapp (or + Create Your First Webapp).

Select Code Webapp > Standard.

Choose Starter code for creating map visualizations and type a name like sfpd for the webapp.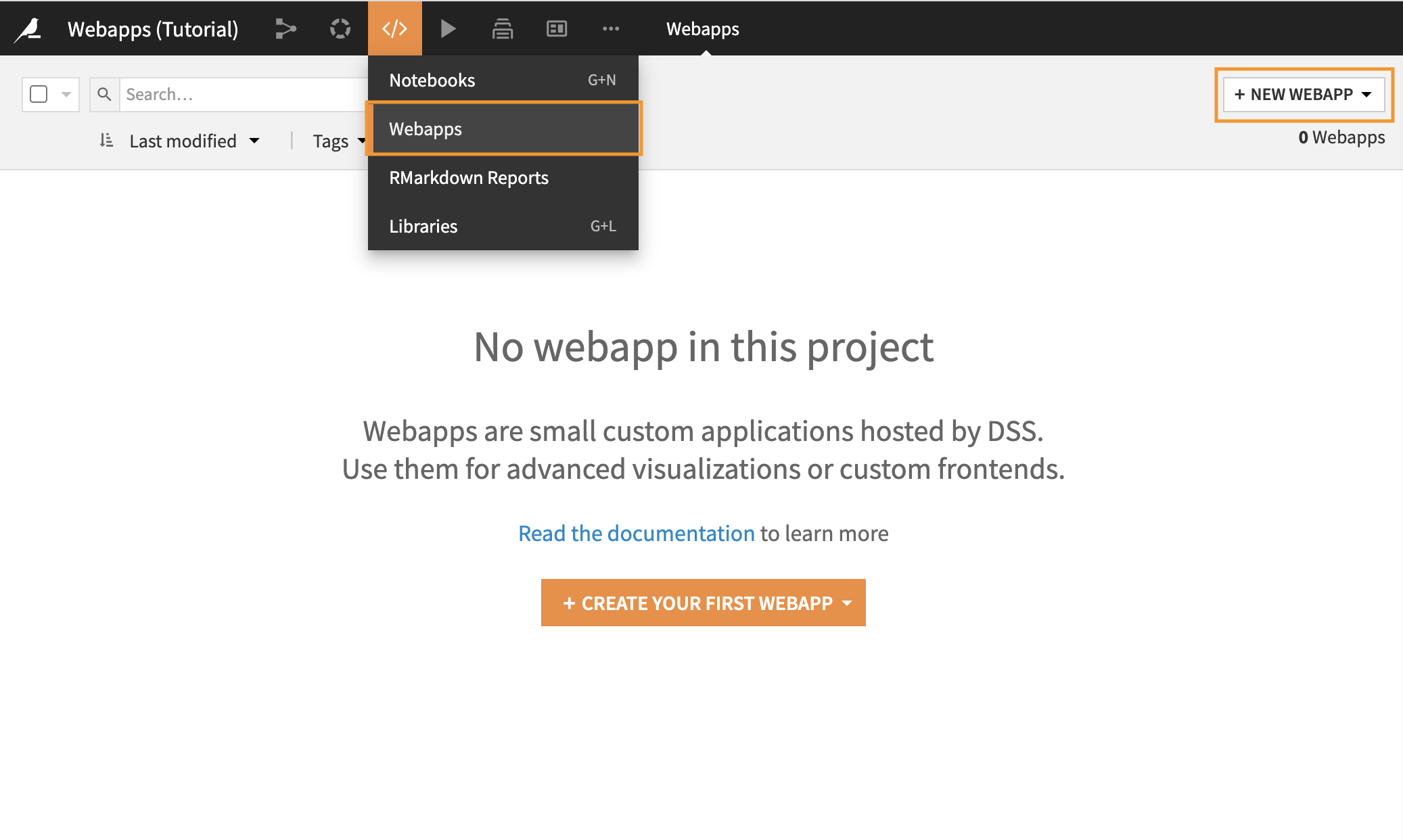 What's Next?¶
Congratulations! Using Dataiku, you have created a basic interactive HTML/JS webapp. You might now publish it to a dashboard.
Recall you can find the completed version of this webapp in the Dataiku gallery.
Take this project further by adding more information or selectors to the app. You could try to correlate business areas with thefts or see if trees have a calming effect on criminal activity.
For further information on standard webapps, please consult the product documentation.