Plugin Development¶
In these topics, you will learn how to write your own plugins with programming languages, such as Python and R.
Tip
You can find this content (and more) by registering for the Dataiku Academy course, Plugin Development. When ready, challenge yourself to earn a certification!
Naming is an important area of plugin development that is often overlooked. Dataiku requires that plugin names and identifiers meet certain policies.
Though the Dataiku interface has a built-in code editor, you may have a preferred IDE. You can set up your IDE for interactive editing of your plugin code.
This enables you to develop plugins in your favorite coding environment. You will also be able to test that your plugin is working as expected by interacting with Dataiku through its APIs.
Installing an existing plugin is useful if you simply want to use the plugin. If you want to contribute to the development of an existing plugin, you'll need to clone the remote Git repository (repo) where the plugin source code is stored.
Connect to a remote Git repository¶
Navigate to the Plugins Development area and click +New Dev Plugin.

Select Retrieve plugin from Git as the source.

Enter https://github.com/dataiku/dss-plugin-sample-correlations as the URL of the remote.

Click Create
Click on the change tracking indicator and select Add remote.

Pull the changes from the remote
In the plugin editor, you should now see the contents of the remote repo in your local repo. If you have write privileges on the remote repository, you can push changes as described in Tutorial | Plugin version management with Git.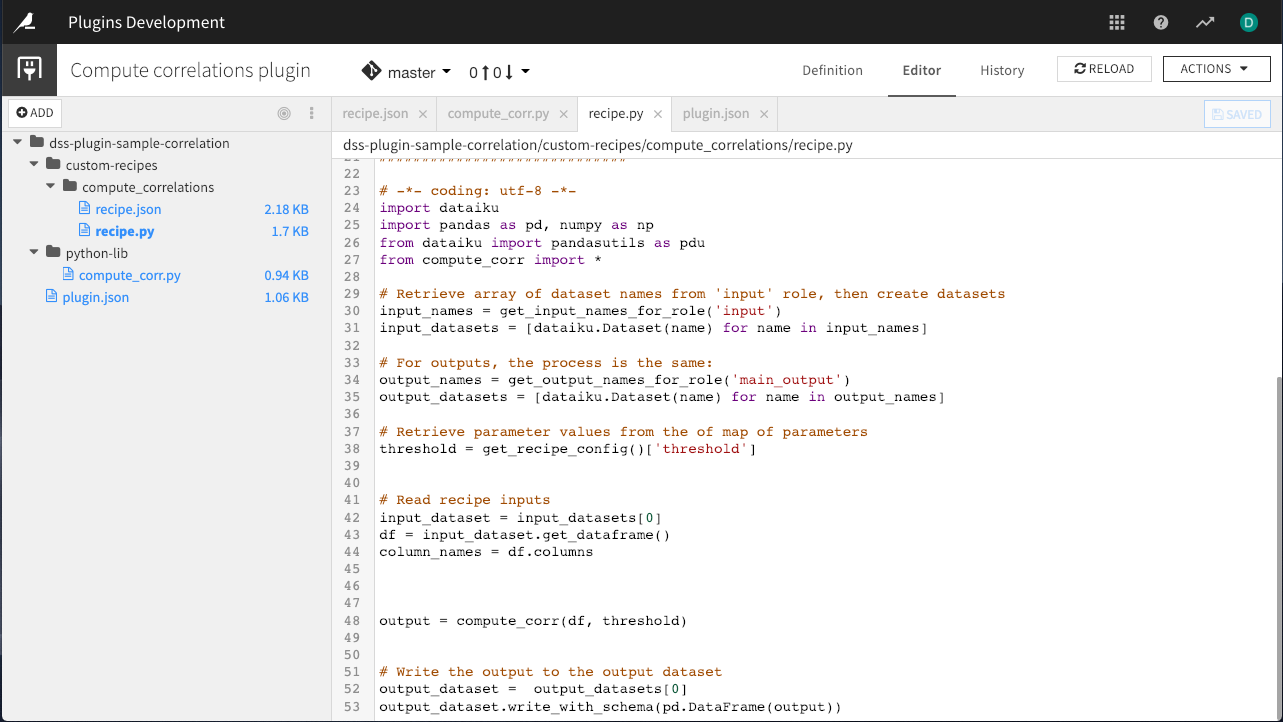 You can convert a plugin from the Plugin Store to a Dev Plugin. Use caution. You will not be able to get updates from the store or from your own repositories afterward.

One of the golden rules of plugins is to never use "import dataiku" in a library. With few exceptions, plugins do not depend on Dataiku unless it is an administrative plugin.
Plugins turn custom logic into components that can be used by anyone, giving less technical users the ability to collaborate and technical users the ability to standardize the way data is processed. Plugins can easily be shared by the community of users in an organization and even shared across organizations. Since most plugins are open source, anyone can view the underlying code and make contributions to it or adapt it.
Plugins range from the very simple to the very complex. For example, plugins can be used to create a connector to read or write data to databases or connect to external APIs. Some examples are connecting with Salesforce data, or get weather forecast by location. You can find more plugins in the plugin store. The possibilities are limitless!
You can find the code for some but not all of the public plugins on GitHub.